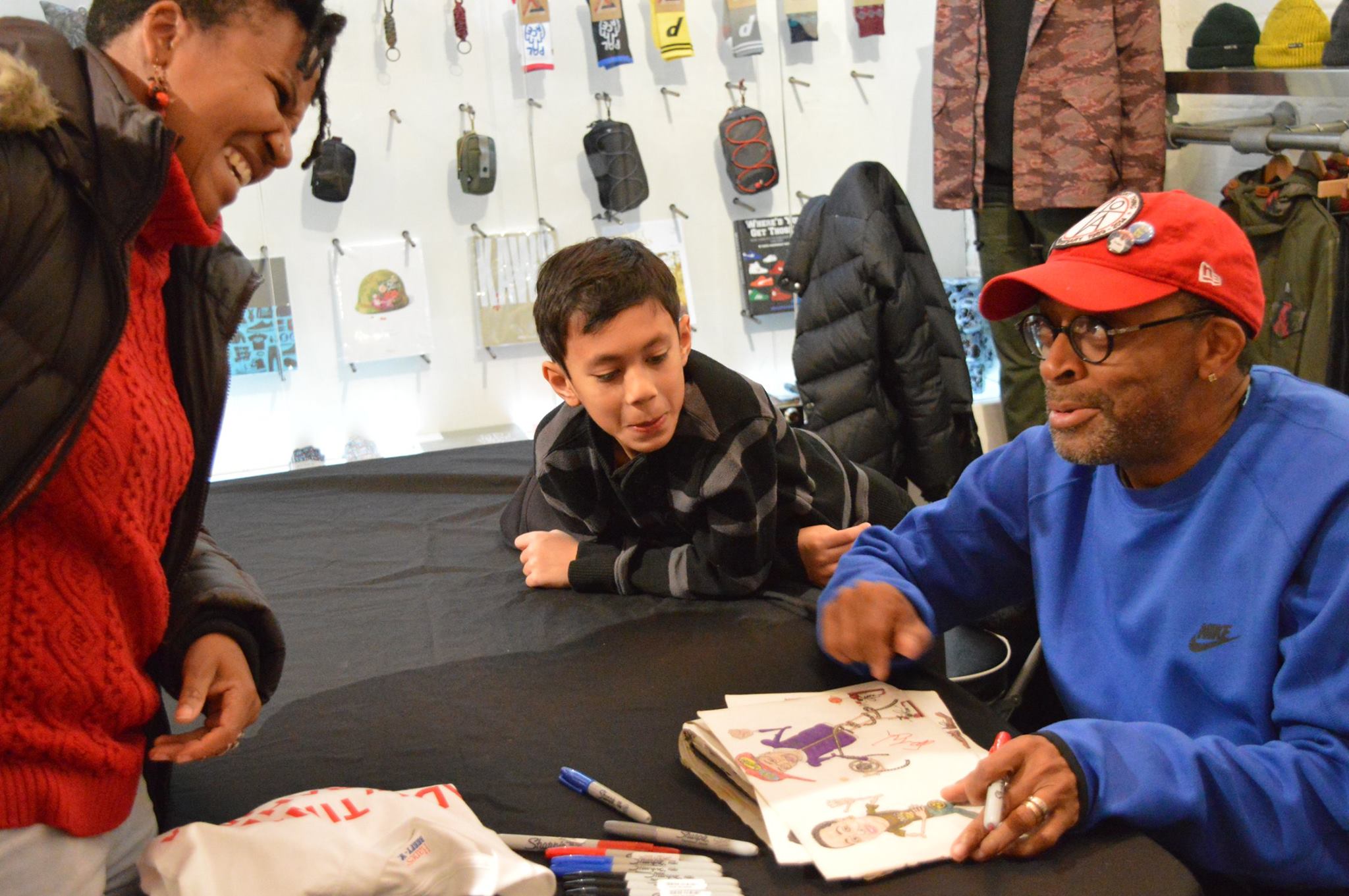 Finally, this weekend, I had the pleasure of meeting one of the inspirations behind my love and passion for films and filmmaking…Shelton Jackson…"Moooookie"…a lover of the New York Knicks….Mr Spike Lee himself.
I had decided long ago that I was no longer going to stand in line for any "celebrity" types, except of course, Janet Jackson and Prince…and now Spike Lee. I was destined to, and this is why…
My attempts to meet him started in my early 20's. I was excited and eager to work in film, specifically, 40 acres and A Mule Filmworks. I had just seen "She's Gotta Have It", and related to the characters. I had a fascination of living the Black American life, and Spike's films awoken my attraction…I wanted it bad
Attempt #1
Eager Filmmaker USA Bound
It was the 90's, and I was eager and excited to work with Spike Lee. I contacted 40 Acres and A Mule, and remember thinking: "I've Got This". I pick up the phone, and a young man answers. I begin my spiel "Hi My name is..I am a lover of film, blah blah blah..and I would love to work with 40 Acres and A Mule Filmworks". He ask that I send my resume, and anxiously I do so. Ready to commence my new journey, I wait impatiently to hear from them. Weeks pass and no word. I call back, and inform them that I have not heard back from them. I am told that they receive several resumes per day and…that they DO NOT hire people in Canada. WHAAATT?!..STOP THE motha$!^&% PRESS!
Shocked and disappointed, I do not give up…
Attempt #2
Afrodelik's journey to NY
Years later, I reach out again to 40 Acres. I let them know that there's a new clothing brand called AFRODELIK, and that I'm coming into town, and would like to present Spike with a tshirt, along with my resume.
This time…they KNOW WHAT'S UP, and we we set up a time and day to meet….
I journey down to DeKalb Street in Brooklyn. Tshirt in hand, resume in my pocket and a confident strut. I reach the production door, buzz my contact…once, twice..no answer. Third times a charm.
I tell them who I am, where I'm from, and why I'm here. I'm excited to present my brand to the team, and to my surprise they say: "…we'll be right down to pick it up from you…"…"WHAAAAT?!", I say to myself
Needless to say, I decide to present them solely with my resume….
Attempt #3
Spike Lee at Livestock in Toronto
I am told by a friend that Lee will be in town…tomorrow, to commemorate the 25th anniversary of "Do the Right Thing". Hosting a Pop-Up shop tribute to his former Brooklyn retail space, Spike's Joint.
I am excited but unsure that I can make it, but my intuitive self says Find A Way…and I do. This is the point where I decide I WILL wait in line to meet Spike.
With tshirt in hand, I am calm. I am 7th in line and spot Spike in the store.
They say doors open at 3pm, and I have an hour to go. It's cold but not freezing. I am surrounded by other fans and people I know. I am happy.
It is my turn to enter the store, and a friend and I do. I purchase a tshirt and make my way to meet Spike Lee…Finally
I walk up to him and stare only for a moment. I smile, "Hi Spike", and he reciprocates a gentle look
I tell him that I attended the Montreal premiere of his latest film, Da Sweet Blood of Jesus, and that I am grateful that he introduced me to the inspiration behind his film, Ganja and Hess. He smiles and says THANK YOU
I present him an AFRODELIK tee…Nina Simone, to be exact, and he likes it
He signs my purchased tshirt, and I ask if he could sign one more thing…he obliges
I bring out a sketch of him that I created when I was 19 years old. He looks at it for a while and with a look of mischief, he says to me: "Looking a little feminine, don't I?".
Not knowing how to respond, I laugh and so does he.
We take a photo together and I am happy. Finally my moment with Spike
Lesson learned: Believe. Persevere. The universe is listening