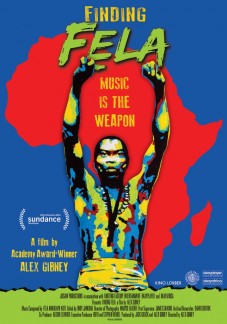 Finding FELA is an inspirational and compelling film, that delves into the many layers of Fela Anikulapo Kuti . It takes us through behind the scenes footage of the Broadway play FELA, and archival footage of Fela and his life journey.
A strong and courageous man, with a no holds barred attitude on anything to do with injustice. He was a man dedicated to his people, his country of Nigeria and dedicated to spreading the word of political corruption, social issues, oppression and police brutality, through his music. He was a human rights activist, a straight shooter, and a brilliant musician and leader
I loved the film and left feeling inspired and respecting his music even more
We find out why his relationship with mother Funmilayo Ransome Kuti is such a big influence on his life and we learn about his love of music, beginning with Jazz. The rhythms of jazz and influences of American Soul Music, like James Brown, lead him to his very successful Afrobeat, with his bands Nigeria 70, Afrika 70 and Egypt 80.
But for Fela, his music was more than just music, it was a platform for him to speak the truth.
At the very popular nightclub The Shrine in Lagos Nigeria. Fela would use these performances to talk about what was really going on in the country. People would come to listen to his music, but were also interested in hearing his political stance on the injustices going on in the country, the shadiness of the police and government…the truth. He pulled no punches and had no room for being politically correct.
He was a revolutionary and his music was his propeller. The more he spoke, the more he made the government and the police angry
Kalakuta Republic, the communal compound that housed his family, band members, and recording studio, is where things got really serious with the police and the government. Fela had pushed their buttons too many times, and the last one that set them over the edge was the song "Zombie", as it was a direct jab at the Nigerian Soldiers using the zombie metaphor to describe the methods of the Nigerian military.
The tragic attack on Kalakuta resulted in many people getting hurt and killed His mother being one of the victims, passing away due to the injuries. Her passing was the last straw, leaving Fela with such anger that he pushed even more
There were many great interviews with his closest friends, family and wives (he married 27 wives at once)
For me the most poignant were with his kids, Femi, Seun and their sister Yeni, his Drummer Tony Allen, the artist behind all of Fela's Album, Ghariokwu Lemi, Director of the Broadway play, Bill T. Jones, and 1 of his wives, American activist Sandra Smith.
You really got a sense of Fela's humanity through their stories
This documentary is a beautifully put together film that brings you into his life, his music, his courage, his tenacity and strength. You leave feeling like he had a spirit within him so strong that was undeniably who he was.
I would recommend this film for anyone who has never heard of Fela and for those that embrace him